Florida Python Challenge® Check Stations & Training Outposts
All pythons captured from the competition locations must be humanely killed on-site at the location and time of capture. Participants must submit pythons at check stations within 24 hours of capture. Participants must chill or freeze python carcasses until submission to a check station. A datasheet must be fully completed and submitted for each captured Burmese python. Read the Rules for complete details.
Novice participants may not transport pythons alive at any time. Review additional training options available to all participants.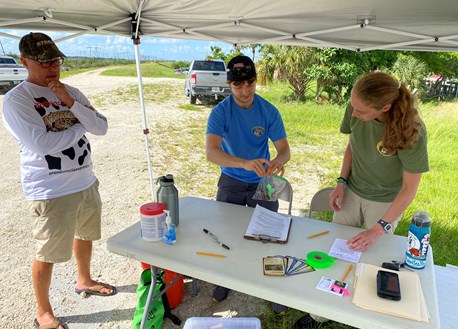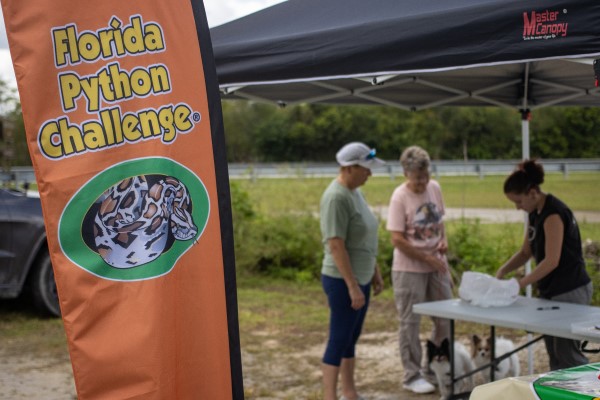 Visit a Training Outpost during opening weekend for additional instruction from an expert in safe capture and humane killing techniques.
Training Outpost Locations and Schedule
August 4-6 of opening weekend, from 4 p.m. to 7 p.m. each day
1. Monroe Station (Big Cypress) (25.862881, -81.099572)
2. Everglades Holiday Park (26.060603, -80.443669)   
                                                                                   3. Rocky Glades (25.608659, -80.512314)
Print your datasheets! A completed datasheet is required for each python submitted to a check station.
Get the datasheet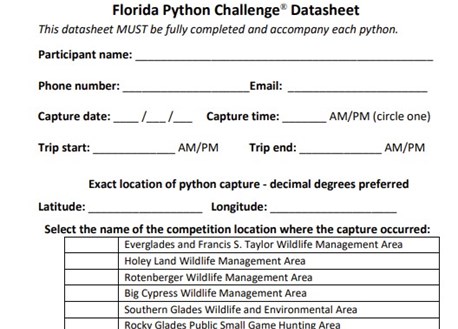 .