Required Online Training
All participants in the Florida Python Challenge® must read the Rules and take the Required Online Training. Burmese pythons can be difficult to find and participants must follow a two-step method in order to kill them humanely.
The Required Online Training teaches participants identification of Burmese pythons and native snakes, plus safe handling and humane killing methods.
Additional Optional Training is available to all participants.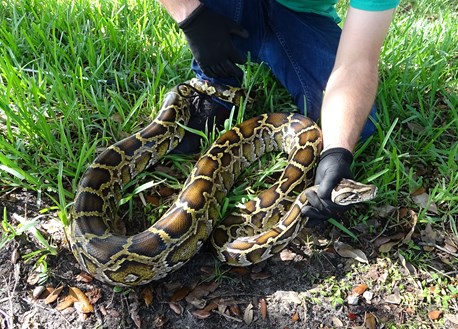 Florida Python Challenge® Required Online Training
The Florida Python Challenge® Online Training is required for all participants. You will not be able to register for the competition until you complete this training. Save your certificate completion code at the end of your training in order to complete your Registration.
Go to Required Training
Can't take part in the Florida Python Challenge® but you'd still like to get involved? We invite you to learn more by visiting MyFWC.com/Python.
You can also help by photographing and reporting sightings of nonnative wildlife year-round at IVEGOT1.org or by using the free IVEGOT1 smart phone app.
Report observations of high priority nonnative species to the FWC's Invasive Species Hotline at (888) 483-4861.
Searching for Pythons
This educational video is full of expert tips for locating pythons in the wild.
Read Competition Rules
Safe Capture of Pythons
This educational video will help you learn how to safely capture and humanely kill invasive pythons.

Read Competition Rules

.