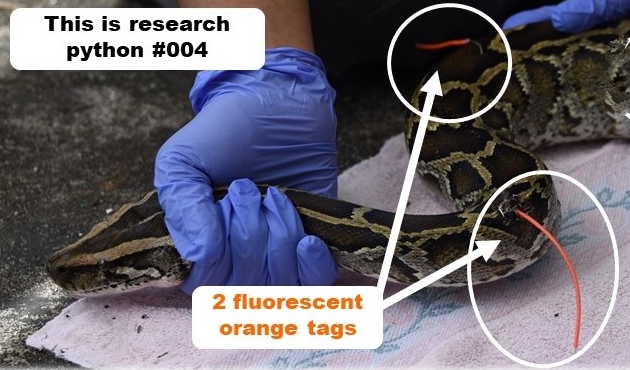 Scout Snakes – Do Not Remove
Burmese pythons tagged for scientific study may be found in Big Cypress WMA, Everglades Francis S. Taylor WMA and adjacent lands during the event. These pythons are clearly labeled with fluorescent orange external tags.
These snakes will count as a capture in the competition. They should not be harmed or killed.

If you capture a scout snake, take a picture of the external orange tag (near the head or tail) with the identification number and release the animal alive at the site of capture. Submit the photograph of the tag number with capture location (GPS) and date to bicy_python@nps.gov or melissamiller@ufl.edu within 24 hours of capture to receive credit for the capture. Participants do not need to measure the scout snake; the research agencies will provide the known lengths of any                                                                                      captured scout snakes.
Report Research Hatchling Encounters

.