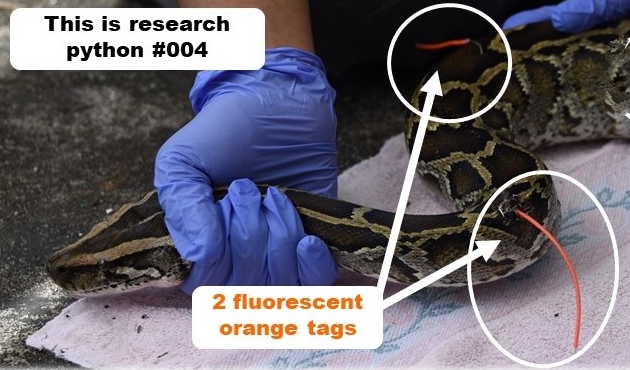 Scout Snakes – Do Not Remove
Burmese pythons tagged for scientific study may be found in Big Cypress WMA or in adjacent lands. These pythons are clearly labeled with fluorescent orange external tags.
These snakes will count as a capture in the competition. They should not be harmed or killed.

To receive credit for the capture, photograph the tags with the tag number visible and then release the python alive in the same location where it was captured. Report the capture with photos, date, time, GPS location to bicy_python@nps.gov.
Participants must adhere to 2022 Competition Location road closures within Big Cypress WMA which include closure of Birdon Road from US HWY 41(25.901547, -81.310739) to lower Wagon Wheel Road (25.965198, -81.311478) and includes Pine Oak Road (25.927962, -81.310813). Bass Lake Road (25.901234, -81.294523) will also be closed for the 2022 competition. Participants may not access these roads by vehicle or on foot to hunt for pythons.
Report Research Hatchling Encounters

.